Lumagen gains rave review in newly published test
---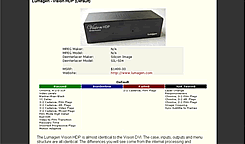 The new 2nd Generation Lumagen DVI and HDP scalers receive high marks in the latest industry respected tests from Secrets Of Home theater. Both DVI and HDP outscore rival units of much higher price. Considering the review samples did not have current firmware and that current and future units can only improve on this performance this means only good news for those currently considering investing in Lumagen right now.
Read the article in full here: hometheaterhifi.com
For more information on Lumagen products, please see our Products area.


(Click here to go back to News archive)