Scaler Amnesty 2014
---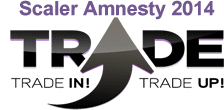 With a new range in the 20XX series with new features and class leading performance there has never been a better time to invest in a video processor. To that end we're bringing back the scaler amnesty! Yes, for february we are going to offer significant trade in offers on any old scaler against a new 20xx series device. You can choose from the 2021 up to the 2042. Remember, it's possible to port the configuration from any Radiance device to another so upgrading should be simple!
These new 20XX series scalers feature the largest 3DLUT calibration capability of any Lumagen product so far with a staggering 729 point colour and 21 point parametric greyscale and gamma facility, plus they have the outstanding darbee processing built in to give the sharpest artefact free images possible.
If you do want to use the greatly increased calibration tools in one of these new devices we'd be happy to offer you a great deal on a new calibration or if you want to do some DIY We'll be happy to guide and advise on suitable tools and how to get the best out of your new Radiance.
We ship internationally as well and believe that this is the best deal available, anywhere! Get in touch now
Trade in values:
Radiance XD/XS/XE £600
Radiance XD3D/XS3D/XE3D/mini3D £750
Vision Range £450
Non Lumagen Scaler £450 (must be working)
(Click here to go back to News archive)